Management Philosophy
As an IR professional, Investor Impact is dedicated to enhancing the value and social significance of its corporate customers by providing support in the resolution of management and capital market issues.
Vision
Our mission is to provide professional IR services as a trusted advisor to our clients, and to contribute to the realization of a sustainable society through the development of corporations, investors, and capital markets.
Our Corporate Identity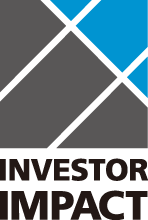 Designed in part as a motif of the first three letter i's in the name, Investor Impact, Inc., our logo reflects our dedication to proactively support the process of value creation on behalf of corporations, investors, and capital markets. The two colors in the logo – blue associated with intelligence and gray with rationality – align with our stance of providing professional services as a well-trusted advisor of our clients. The overall design of the three letter i's reflects our role contributing to a beneficial rising trend for both society and markets over time.